Mexico's Yucatan Peninsula

Mexico's Yucatan Peninsula is one of the most unique places on the planet. Most of the peninsula is covered by humid subtropical dry forest that gets its moisture from periodic rainfall and humidity.  The entire peninsula is mostly made up of Limestone and is uniformly flat. Because of this, there are no rivers or streams that flow above ground, but water runs through the many thousands of caves in the Limestone base.  These caves often collapse and form sinkholes, known as "Cenotes" in Spanish. Because of the low elevation and flat topography, the water table here is quite high. Most caves have some water in them and the Cenotes have provided humans access to that water for thousands of years.
Both the Maya and the Aztec built cities and pyramids in the region. Many of them are well preserved and they offer some of the best birding anywhere in the region. Many of the pyramids are open and tourists are allowed to climb to the top of them. Just like any other Canopy tower, this allows us to bird the different levels of the forest, and to get above and look down on the forest and birds below us as Orange-breasted and Bat Falcons zoom by our heads.
Down in the forest, birds like Yucatan Jay, Gray-throated Chat, Red-crowned Ant-Tanager, Black-faced Antthrush, Yucatan Woodpecker, many Altimira Orioles and Ferruginous Pygmy-owls keep us company along with many others.  Buff-bellied Hummingbirds and Canivet's Emeralds are commonly seen and, if we're lucky, we might just track down a Mexican Sheartail!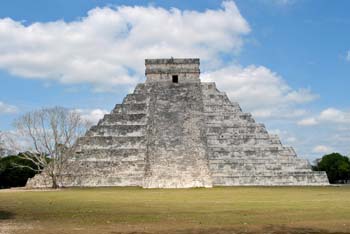 No trip to the Yucatan is complete without seeing American Flamingos. Near the end of our tour, we will visit the charming coastal fishing village of Ria Lagartos. Here, we will take a boat tour through the mangrove forests and out to the salt flats where the Flamingos forage for the tiny shrimp that give them their rich, pink color. On the way back, we'll look for shorebirds and gulls in the shallow estuary and, perhaps even a look at the secretive Boat-billed Heron.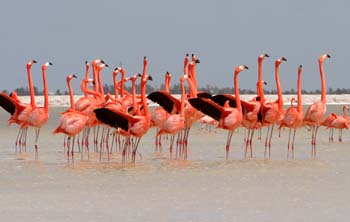 For more details on our fantastic upcoming Yucatan tour, follow the link!
http://www.naturescapetours.com/toursbyregion/yucatan-peninsula-land-of-the-maya/