Pacific Coast Pelagic Cruise
Spring dates: May 10-13, 2016
Our spring and fall pelagic cruises are multi-day trips aboard a large cruise ship. In this way, we can provide a good pelagic experience from a stable platform and cover a large area as well. Most trips begin in Los Angeles and conclude in Vancouver.
This is a fantastic way to see pelagic species if you are one who easily becomes seasick as it takes very rough seas for the ship to feel any motion.  Depending on the time of year, the species possibilities are endless and the luxury cruise experience is well worth it.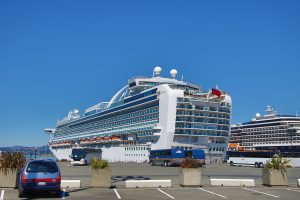 The majority of our cruises will be aboard the 951ft long Ruby Princess (actual ship may vary, depending on the cruise) This is a luxury cruise ship and we should have a very comfortable cruise. The majority of the day will be spent on the bow or side Promenade deck of the ship, scoping the seas for deep-water pelagic birds.
It should be noted that this is primarily a pelagic tour and we will have two full days at sea, scoping for seabirds. This is very difficult birding at best and it is important to know beforehand that not every person will see every species. On a moving ship, with moving birds, it will be impossible to get every person on every bird. With some luck, we could see multiples of all species, allowing you the best chance to get a look at everything that flies past the ship.

This tour is a fantastic option for anyone who easily gets seasick during normal pelagic trips as a ship the size of the Ruby Princess doesn't rock very much at sea unless conditions are stormy. It is stable enough while at sea to be