Trinidad & Tobago Tour Itinerary
Daily Itinerary
(Itinerary is illustrative, actual schedule may change based on local conditions)
Day One, February 18: Arrival in Trinidad & local birding. Arrival at Piarco International Airport in Port-of-Spain and transfer to our hotel. We'll enjoy a bit of local birding before dinner if time allows. Night near Piarco.
Day Two, February 19: Aripo Savannah, Yerreté, Caroni Swamp. This morning's journey to the lowland Aripo Savannah should provide a batch of birds for us to admire. Fork-tailed Palm Swift and White-winged Swallows dart across grassy savannas while Plumbeous Kite, Shiny Cowbird, Giant Cowbird, Yellow-rumped Caçique, Blue-black Grassquit, Ruddy-breasted Seedeater, Grasslands Yellow-Finch and Red-breasted Blackbird are likely to be seen. Isolated wetlands may hold Cocoi Heron, Wattled Jaçana, Southern Lapwing, Yellow-chinned Spinetail, White-headed Marsh Tyrant and Pied Water-Tyrant. Isolated trees act as convenient perches for morning flights of parrots and raptors like Yellow-headed Caracara, Savannah Hawk, Gray-headed Kite, Orange-winged Parrot and Green-rumped Parrotlet.
The Aripo Savannah is an area of extremely acidic soil with poor drainage, and is a remnant of what once was a major habitat type of lowland Trinidad. These remnant savannas are now surrounded by extensively altered landscapes where much sugar cane is grown, as well as small-scale agriculture and housing development sprawl. We'll bird nooks-and-crannies of available habitat along with a variety of nature reserve options in order to maximize our bird sightings.
We'll leave Aripo in time to arrive for a light lunch at Yerreté. An idyllic private home in Trinidad's Maracas Valley, Yerreté has only recently been opened to the public. The property's many hummingbird feeder stations offer unparalleled, up-close views of a wide array of Trinidad's hummingbird species. Twelve of the island's 13 recorded species have been seen at the feeders. An optional slideshow of the owner's amazing photography will also be shown.
From Yerreté, we'll depart for the the famous Caroni Marsh, a specialized mangrove forest containing several species of mangroves adapted to life in this unique brackish water community. Caroni Swamp holds 6,000 hectares under its protective umbrella.
We've chartered our own boat, arranged for a bit of extra time and negotiated our departure to be in advance of other outgoing boats in order to give us first chance at the birds along Caroni's maze of waterways. With only our small group in the boat, we'll have more time, more room and no distractions from our task at hand—see as many birds as possible up close and personal!
We'll search for some of Caroni's more specialized denizens from roadways, dikes and boat. Neotropic Cormorant, Anhinga, Striated Heron, White-cheeked Pintail, Large-billed Tern, Green-throated Mango, Black-crested Antshrike, Rufous-browed Peppershrike, Straight-billed Woodcreeper, Pied Water-Tyrant, Greater Ani, Bicolored Conebill and Masked (Red-capped) Cardinal. Our boatsman is intimately familiar with the area and he may know the current roosting perches of Tropical Screech-Owls or Common Potoos. Being first into the channel gives us a better shot at seeing kingfishers—Ringed, Green and American Pygmy Kingfisher all call the area home. Sharp eyes in our group increase our odds of finding one of Caroni's non-avian residents like Ruschenberger's Tree Boa (eats birds and can grow to seven to eight feet long!), Silky Anteater, Spectacled Caiman or Boat-billed Heron (had to throw in a bird).

Our day ends with the spectacular natural events of Trinidad—world renown evening flight of Scarlet Ibis returning to their mangrove roosts. As flock after flock of flaming ibis pass in front of us, you'll agree that it truly is one of the world's most dramatic natural moments. On our return to the boat dock we'll search mangrove-lined channels for mysterious sounding—and odd looking!—Common Potoo. B/L Night near Piarco.

Day Three,

February 20

: Drive to Grand Riviere and Mount Plaisir, local birding, PM search for guans. Our morning program is a bit open today. We may bird near Port of Spain before beginning our drive eastward across the island or we may depart early for morning birding near Grand Riviere and to search for guans. We'll see what the day brings. Regardless of our departure, after a scenic drive we'll arrive in time for lunch and to get settled into our rooms before an afternoon of local birding. Driving along a steeply wooded slope into some riverine forest we'll search for exciting finds like Swallow-tailed, Gray-headed and Plumbeous Kites, Short-tailed Nighthawk, Crimson-crested Woodpecker, Silvered and White-bellied Antbirds, Green-backed and Guianan Trogons, Channel-billed Toucan, Black-tailed Tityra and Trinidad Euphonia. With great luck we may find a group of Trinidad Piping Guans feeding in the Wild Nutmeg trees they prefer and get to watch them at leisure.

Nightfall may bring Leatherback Sea Turtles (world's largest turtle and one of the world's largest living reptiles—large females can weight up to 1500 pounds!) onto the beach in front of our lodge although numbers are likely to be small this early in the egg-laying season. The numbers of turtle nests make each morning a free-for-all for vultures, local beach dogs and other predators. Site volunteers try to safeguard the hatchlings, which are at great risk if nests erupt during daylight hours. It's a busy time, at times graphic, but very much the drama of life. We find the best photography to be the right at first light the following day, when some of the huge females may still be out on the beach.

In addition to its sea turtle bonanza and guan locality Mount Plaisir Hotel has great atmosphere and fine food for us to enjoy. B/L/D Night Mount Plaisir.
Day Four, February 21: Mount Plaisir, piping-guans, return to POS, fly to Tobago, Cuffie River Retreat. Early morning finds us in the predawn hours admiring any remaining Leatherback Sea Turtles on the beach. We'll soon be driving up a wide forested track to a look out over a superb viewing area. We're specifically scrutinizing Wild Nutmeg trees that are the preferred feeding habitat of Trinidad Piping-Guans. We should find them here or, by networking with local residents, at a nearby alternate location. After seeing the guans, we'll return for a hot breakfast, pack up our gear and begin our journey to Tobago via our transfer to the airport and a short flight to Trinidad's sister island. Tobago forms the final link in the chain of mountain ranges extending from the Venezuelan Coastal Range sitting on the very edge of the South American Continental Shelf. Tobago's climate and rainfall more closely resembles that of the Lesser Antilles, meaning it's drier and windier than Trinidad. After arriving on Tobago we'll visit marsh habitats searching for shorebirds, herons, egrets and ducks like White-cheeked Pintail. Our drive takes us along the islands main ridge to the secluded Cuffie River Nature Retreat. We'll relax and enjoy the lodge's feeders and adjacent forest areas for the remainder of the day. If the weather allows, you might choose to enjoy Cuffie's pool surrounded by sights and sounds of the rainforest. B/D Night Cuffie River Retreat.
Day Five

February 22

: Cuffie River Retreat. After breakfast, we'll enjoy a leisurely hike along the Cuffie River Trail exploring the lodge's forest tracts. We'll look for White-tailed Sabrewing, Blue- backed Manakin, Yellow-legged Thrush as well as other Tobago specialties, like Rufous-vented Chachalaca, Ruby Topaz Hummingbird, Collared Trogon, Red-crowned Woodpecker and White- fringed Antwren. The afternoon will be free for photography, birding, relaxation or we can help you make arrangements for such activities as snorkeling or swimming at a nearby beach or you may simply enjoy the grounds of this idyllic lodge. B/L/D Night Cuffie River Retreat
Day Six, February 23: Gilpin Trace, transfer to Blue Waters Inn (snorkeling right out our front door!) Early morning will find us traveling at elevations over 2,000 feet enroute to Tobago's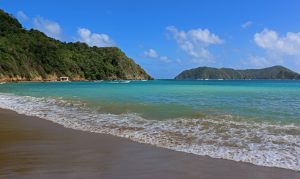 Rainforest Preserve, where the island's best mountain forests are found. We'll pass among charming quiet villages, to the forested interior looking for White-tailed Sabrewing, once thought to be extinct but rediscovered here in the 1960s. We'll also seek out Blue-backed Manakin, Yellow-legged Thrush and other Tobago specialties, such as Red-crowned Woodpecker and White-fringed Antwren.
After checking into the beach front Blue Waters Inn, we'll have lunch. After eating, you're set for a relaxing afternoon, where you can bird, relax, swim, snorkel or dive (Blue Waters Inn has a full-service dive shop.) B Night Blue Waters Inn.
Day Seven,

February 24

: Blue Waters Inn, glass bottom boat to Little Tobago Island (boobies and tropicbirds!) This morning you get to enjoy one of the incredible experiences of your tour—a visit to the isolated island in front of our hotel. After breakfast, we'll depart by boat to
Little Tobago Island, one of this nation's most important wildlife sanctuaries. As we cross over to the island we will watch for Leatherback and Hawksbill Sea Turtles and enjoy spectacular views of one of the Caribbean's most beautiful, and pristine coral formations from the comfort of our glass-bottom boat. Upon landing we'll explore the island for Chivi Vireo, Brown-crested Flycatcher and Pale-vented Pigeon. In addition, we'll explore nesting colonies of Red-billed Tropicbird, Red-footed and Brown Boobies. B Night Blue Waters Inn.

Day Eight,

February 25

: Blue Waters Inn, return flight to Trinidad, Asa Wright Nature Center. A last morning at Blue Waters Inn with time for a leisurely breakfast, a quick dip in the ocean or pool or a birdwalk around the hotel grounds. We'll then have to pack up and prepare for our transfer to the airport and our flight to Trinidad and the crowning jewel of our Tropical Birding Vacation—Asa Wright Nature Centre and Lodge. Once we arrive at Asa Wright, we'll have ample time for enjoying the feeders, verandah and centre property until dinner. Combined, they are a fitting welcome to this tranquil setting that has made Trinidad renown the world over. In the late afternoon, we'll savor the first traditional rum punch hour on the verandah. A very cool drink and even cooler birds. It doesn't get better than that! B/D Night Asa Wright.
Day Nine,

February 26

: Asa Wright Nature Centre verandah and trails, PM macaws and nightbirds. Your first morning on Asa Wright's famous verandah might begin with a raucous chorus of Crested Oropendolas with back-up singers providing an exotic soundtrack. A first-time visitor might see 20-30 lifebirds before breakfast. Brilliantly colored honeycreepers, tanagers and hummingbirds are soon zipping all around as you frantically try to see everything that appears. Photographers are soon inundated with subjects, each more beautiful than the last. Where to begin? 

After breakfast, our birding day will start with a hike along several trails that traverse this rich and diverse wildlife sanctuary. On our introductory walk we should see such species as Guianan (Violaceous) Trogon, Channel-billed Toucan, Chestnut Woodpecker, White-bearded Manakin (needs to be HEARD to be believed!), Rufous-browed Peppershrike, Golden-headed Manakin, Palm, White-lined, Turquoise and Bay-headed Tanagers and Yellow Oriole. Perhaps the potoo will be back on his traditional roost for us to enjoy.

The Centre is situated atop a typical valley of Trinidad's Northern Range. These sites have been traditional plantations for coffee, cocoa and citrus production and many of these plants are still maintained at the Centre. Natural second-growth has taken over and festooned the abandoned plantation acreage with vines and a host of epiphytes. The whole effect is one of being deep in a tropical rainforest. Our afternoon is freeform to allow you to relax, enjoy the trails and adjust to the tropical sun and heat. Birding from the verandah of the Asa Wright Nature Centre is one of the world's most pleasant, and exciting, ornithological experiences. Trinidad Motmot, Ruby-topaz Hummingbird, Tufted Coquette, Barred Antshrike, Cocoa, White-throated and Bare-eyed Thrushes and Green Honeycreeper are some of the many species that can be easily seen.

We will leave the centre in the late afternoon, traveling downhill to the savannah region for some night birding. Target species include Red- bellied Macaw and Moriche Oriole in the afternoon and White-tailed Nightjar, Common Pauraque, Common Potoo, Tropical Screech Owl and Barn Owl after dark. B/L/D Night Asa Wright.
Day Ten,

February 27

: Blanchisseuse Road. We'll enjoy an early breakfast, pack a picnic lunch and depart for an all-day excursion over the Northern Range towards the seaside village of Blanchisseuse. En route we'll look for Swallow-tailed Kite, Common Black Hawk, Ornate Hawk-Eagle, Bat Falcon, and Rufous-tailed Jacamar. Along the way we'll encounter some of the more
secretive forest birds such as Silvered Antbird, Green-backed (White-tailed) and Guianan (Violaceous) Trogons, a host of flycatchers, tanagers like Speckled, Turquoise and Bay-headed Tanagers and Blue Dacnis. Along with rich birdlife, we will also have an opportunity to examine the fascinating world of leaf-cutter and army ants while photographing orchids and other tropical flora. Depending on the weather conditions and the birds, we'll picnic either at a nice spot in the hills near the village of Brasso Seco or on the beach near Blanchisseuse. (Bring your swimming suit in case we have the opportunity for a dip in the ocean.) B/L/D Night Asa Wright.
Day Eleven,

February 28

: ASNC verandah, Oilbird cave hike, transfer to Piarca Airport for flight home. After a bit of time on the verandah, and our final breakfast at Asa Wright, we'll visit Dunston Cave, a beautiful riparian grotto located below the lodge, to view a breeding colony of the fascinating, nocturnal Oilbird. Dunston Cave is one of the most accessible Oilbird caves in the entire world and access to the cavern is limited in order to protect this rare species. During our short hike, we could see some of the more secretive birds of the deep forest such as Red-crowned Ant-Tanager, Black-faced Antthrush, White-bellied Antbird and Gray-throated Leaftosser. After returning from the Oilbird cave, we'll pack our bags for our trip to Port-of-Spain and your return flights home. Sad to leave, but content with our many photos and memories of a wonder-filled tropical vacation! B/L