Oaxaca Itinerary
DAY ONE – Arrival in Veracruz, Mexico. Arrive independently in Veracruz, Mexico. You will be met at the airport by your leader, Kim Risen and transfer immediately to our hotel. Night Veracruz or Cordoba depending upon group members' time of arrival in Veracruz.
DAY TWO – Tropical lowland forest covering karst hillsides, flooded grasslands & savannas enroute to Tuxtepec. We'll leave Veracruz in predawn darkness in order to time our arrival at Amatlan just after sunrise. As we draw close to our destination, Volcan Orizaba dominates the northeastern horizon. If we're lucky we'll have good views of this "perfect" volcano before clouds obscure the cone. Just a short distance off the highway is the small village of Amatlan and the karst limestone hillsides that are home to one of Mexico's most unique endemics–Sumichrast's Wren. Although we may hear this species' loud songs in Oaxaca, getting to those forest patches is often impossible. Here, the karst limestone hills are covered with plantations of coffee growing under shade trees. The many footpaths in the forest give us easy access to the habitat of this truly amazing bird. Other birds from past trips include Thicket Tinamou, Singing Quail, Bronze-winged (Golden-olive) Woodpecker, Wedge-tailed Sabrewing, toucans, Fan-tailed and Golden-crowned Warblers and Montezuma and Chestnut-headed Oropendolas.
After finding Sumichrast's Wren, we'll explore coastal lowland and wet savanna habitats of Veracruz, crossing the border into Oaxaca in the late afternoon. We'll see incredible numbers of waterbirds of all varieties. We should find all of the herons and egrets found in this region of Mexico in numbers that at times may be staggering. Raptors are another highlight, and we've seen as many as 19 species during our day in this area. Kestrel, Merlin, Laughing, Peregrine and Aplomado Falcons, White-tailed and Snail Kites, Black-collared, Roadside and Gray Hawks, Common and Great Black-Hawks and even large numbers of Lesser Yellow-headed Vultures.
Huge numbers of highly visible birds may make this the favorite day for many participants. One year we saw 159 species on our Veracruz wetlands day! The area holds good numbers of spectacular species like Fork-tailed Flycatchers (a highlight from 1999 was a field with more than 30! of these graceful birds flycatching from grass perches low to the ground), Green-breasted Mango, Gray-necked Wood-Rail and even the familiar Vermilion Flycatcher. Night Tuxtepec.
DAY THREE- Tropical lowland forest, tropical evergreen forest and tropical cloud forest up to pine/oak forest above Valle Nacional. Morning will be spent birding areas that contain remnant forest on the hillsides above Valle Nacional. In this highly agricultural area even these small tracts of forest have good numbers of birds. Little and Thicket Tinamous calling in the early morning hours, White Hawk, Dusky Antbird, Barred Antshrike, Rufous-breasted Spinetail, Spot-breasted Wren, Northern Bentbill, Gray-headed Tody-Flycatcher, tanagers (Blue-gray, Crimson-collared and euphonias), hummingbirds (White-bellied and Canivet's Emeralds, Little Hermit, and Wedge-tailed Sabrewing), Violaceous Trogon, Chestnut-headed and Montezuma's Oropendolas, and Yellow-tailed, Audubon's and Altamira Orioles are likely highlights.
We'll enjoy a picnic lunch in the mountains before our return to the lowlands and additional birding before we return to our hotel. We may have an after dark owl prowl. Past trips have produced Common Potoo, Pauraque, Whip-poor-will, Vermiculated Screech, Striped and Mottled Owls and sounds that have to be heard to be believed. Night Tuxtepec.
DAY FOUR –  Sierra Madre del Oriente cloud forest above Valle Nacional, to Ciudad Oaxaca. Sunrise will find us birding tropical forest a bit higher up Oaxaca's Eastern slope, particularly the cloud forest areas high above Valle Nacional. While some sights and sounds may be similar to our previous morning, many will be new. Possibilities include Little and Thicket Tinamous, Slate-colored Solitaires calling from moist canyons, Ruddy Foliage-gleaners giving their nasal calls from dark ravines, Keel-billed Toucans emitting their frog-like calls from exposed limbs above the forest, Unicolored Jay, Emerald-chinned, Azure-crowned and Bumblebee Hummingbirds dive-bombing each other at isolated flower banks, Hooded Yellowthroats and White-naped Brush-Finches can be found skulking about brushy roadsides and the incredible scenery of this higher elevation cloud forest all vie for your attention.
Our route takes us up and over the mountains, and the afternoon hours will find us descending into the mile high Valley of Oaxaca. A charming colonial city, we'll enjoy our first night on the highly entertaining central square or zocalo. Night Oaxaca.
DAY FIVE – Reserva Santa Caterina de Ixtepeji, Yuvila, scrub above Oaxaca. Early morning departure for Cerro San Felipe. We climb through several habitat types ending up in a humid pine-oak forest near 11,000 feet. Several endemics (Gray-barred Wren, Red Warbler and Collared Towhee) reach their southeastern limits in this area. Several others are more easily found here (Long-tailed Wood-Partridge, Dwarf Jay, Rufous-capped Brush-Finch, Aztec Thrush and Collared Towhee) than any other locations we plan to visit. Other birds we may encounter include Garnet-throated, Amythest-throated & Bumblebee Hummingbirds, woodcreepers (Strong-billed, White-striped and Spot-crowned), Pine Flycatcher, Black Robin, Brown-backed Solitaire, Crescent-chested Warbler and Cinnamon-bellied Flowerpiercer. We'll eat a picnic lunch in the forest and, if conditions and stamina allow, may stay until dusk for some night birding. Night Oaxaca.
DAY SIX – Monte Alban Ruins, Tule, Teotitlan del Valle. Early morning visit to the scrub habitats found below the ruins of Monte Alban. Monte Alban was an important social and religious site of the Zapotec and the impressively restored ruins are one of the most significant archeological zones in Meso-America. As we explore the scrub-covered slopes below the ruins, we should find Ocellated Thrasher, Slaty Vireo and many of the same species observed previously. We'll thoroughly explore the ruins before returning Oaxaca and exploring areas east of town. A stop in the picturesque village of Tule is in order.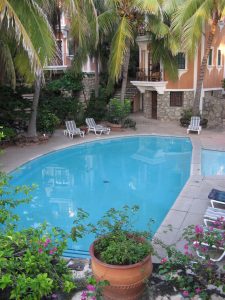 Close-up views of the impressive Mexican Cypress amid the church courtyard (supposedly the tree with the largest circumference in the world) is planned. Lunch may be at the central plaza in Oaxaca or in Tule to give us another taste of rural Mexico. We may also visit the scrub oak hillsides to the north of Oaxaca in the afternoon for Slaty and Dwarf Vireos and Oaxaca Sparrow. This may be our best night for owling in the mountains to the north of the city. Species to be looked for include Whiskered Screech-Owl, Northern Saw-whet Owl, Flammulated Owl and Stygian Owl. Night Oaxaca.
DAY SEVEN – Yagul Ruins, Eastern Valley of Oaxaca, to Tehuantepec. Early morning finds us birding desert scrub surrounding the picturesque Ruinas de Yagul. Possible endemic birds here include Gray-breasted Woodpecker, Dusky Hummingbird, Beautiful Hummingbird, Boucard's Wren Bridled Sparrow and White-throated Towhee. Time spent exploring thorn scrub blanketing hillsides below these interesting ruins will pass rapidly as the sun becomes quite warm shortly after clearing the mountains. After cleaning up at Yagul, we'll depart for other locations in the eastern end of the Valley of Oaxaca for goodies as Slaty Vireo, Oaxaca Sparrow and anything we might have missed thus far. We'll enjoy lunch at "The Home of Mezcal", where a tasting session might be in order. Scrub hillsides, woody ravines and shaded slopes occupy our afternoon hours as we travel south toward the Pacific Coast. New possibilities include: Green-fronted & "Doubleday's" Hummingbirds, Red-breasted Chat and Orange-breasted Bunting. After checking into our hotel, we'll search hard for Sumichrast's (Cinnamon-tailed) Sparrow—our only opportunity to see this very range restricted Isthmus of Tehuantepec endemic—hoping to free up the morning for an early departure. Night Tehuantepec.
DAY EIGHT – Tehuantepec to Arriaga. If needed, we'll have an additional morning to search for Sumichrast's Sparrow. If we have no misses on our birdlist, we'll leave early towards the Isthmus of Tehuantepec. There are a number of reserves, 'secret spots' and traditional stops, so we'll have a 'game-time decision' as to which sites we'll visit. As birders there are a number of interesting species we can find in these scattered woodlands. We should encounter the second of our Isthmus endemics—Rosita's Bunting—as we approach Arriaga. Other species of interest include Citreoline Trogon, Canivet's Emerald, Green-fronted Hummingbird, Long-tailed Manakin and the amazing Orange-breasted Bunting. Night Arriaga.
DAY NINE – Arriaga foothills, coastal Isthmus of Tehuantepec to Puerto Angel. Visiting areas a little further afield, we'll search for Giant Wren, another endemic of the Isthmus of Tehua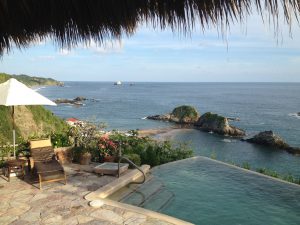 ntepec. Searching coastal areas should yield a number of water and shore birds. Boobies, pelicans, herons, egrets, 'Mangrove' Black-Hawk, White-bellied Chachalaca, Collared, Snowy, and Wilson's Plovers, gulls, terns, Pacific Parakeet and Ochre Oriole might fill our well rounded lists by day's end. Our day will end with a fine dinner (fresh seafood is my choice!) on the shores of a scenic bay. Night Puerto Angel.
DAY TEN – Thorn forests & wetlands of southwestern Oaxaca. Predawn will find us beginning our drive west along the coast toward the state of Guerrero. We'll enjoy habitats as coastal lagoons, large wetlands and thorn forest covered hillsides. We may see White-throated Magpie-Jay, Gray, Roadside and Black-collared Hawks, ducks, herons & egrets from our car. We'll spend as much time as possible walking roadsides, side-roads and pathways through the arid thorn forest—a habitat that is fast disappearing from the landscape. We'll look for West Mexican Chachalaca, Lilac-crowned and White-fronted Parrots, Lesser Ground-Cuckoo, Cinnamon, Doubleday's and Green-fronted Hummingbirds, Russet-crowned Motmot, Citreoline Trogon, Banded, Sinaloa and Happy Wrens, White-lored Gnatcatcher, Streak-backed Oriole, the enigmatic Red-breasted Chat, Orange-breasted Bunting and Stripe-headed & Black-chested Sparrows. Birding in many different habitats before we arrive in Puerto Escondido for lunch will give us a large day list. Thorn forest, wet grasslands, ponds, lagoons, rivers and ocean shore will all be visited. We should find many ducks, herons, shorebirds, raptors and passerines too. Wood Stork, Roseate Spoonbill, Limpkin, Bare-throated Tiger-Heron, Northern Jaçana, and many migrating shorebirds. When we return to Puerto Angel we'll have a chance to see several oceanic species including Brown Booby and Red-billed Tropicbird. Dinner may be in Puerto Escondido or Puerto Angel…depending upon our day's activities. Night Puerto Angel.
DAY ELEVEN – Sierra de Miahuatlan to Oaxaca. An early morning departure for birding in the Sierra de Miahuatlan range on our way into the central valley of Oaxaca. Some  birds we may see include Gray-crowned Woodpecker, Wagler's Toucanet, Ivory-billed Woodcreeper, Squirrel Cuckoo, hummingbirds (Golden-crowned Emerald, Berylline, Bumblebee, Cinnamon-sided and Blue-capped), Pileated and Tufted Flycatchers, Bright-rumped Attila, Masked Tityra, Gray Silky-Flycatcher, Red-crowned Ant-Tanager, Golden Vireo, Black-headed Saltator, Rusty Sparrow and Yellow-winged Caçique. Our main emphasis is seeing the three endemic birds of this small mountain range—Wagler's Toucanet and Cinnamon-sided and Blue-capped Hummingbirds. We've never missed this spectacular trio o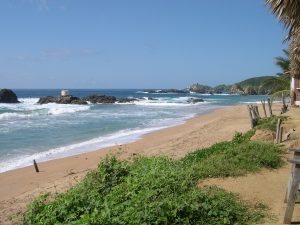 n our tours, and we'll do all that we can to insure that none of these endangered beauties will be missed this on this year's tour either! Incredible scenery of small mountain villages will compete with Oaxaca's higher elevation birdlife for the day's most memorable sightings. Green Violet-ear, Red Warbler, Golden-browed Warbler, White-throated Jay—even the names of these birds are colorful and exciting! We'll arrive in Oaxaca in the late afternoon, hopefully with time to enjoy activities around the central square or zocalo. With large trees, elegant 17th Century Churches, wrought iron railings and large stone edifices framing the courtyard our visit here is always a treat with our final dinner on the zocalo a fitting end to our trip. Night Oaxaca.
DAY TWELVE – Transfer to airport for flights home. We'll transfer to the airport in ample time for your departure flights. During your journey home, your mind can focus on  memories of colorful birds, people and scenery to last until your next visit to Mexico!