Puerto Rico Itinerary
Puerto Rico: Birds and Tropical Islands Itinerary
Day 1 – Arrival at San Juan's International Airport. You'll be met upon arrival by Kim Risen, your leader for this

tour

. We'll transfer immediately to our hotel. While we'll have a bit of time for sightseeing and shopping in Old San Juan on our last day, we recommend arriving a day or more ahead of the group or staying a day or more after the

tour

ends if you wish to more thoroughly explore the historic forts and their environs.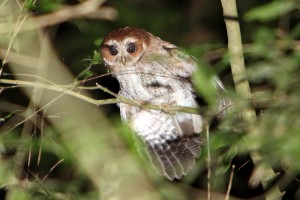 After arriving at our hotel, we'll have ample time to explore the grounds and nearby birding patches. An after dark search for resident Puerto Rican Screech-Owl is planned. Night Ceiba
Day 2: – Caribbean National Forest to Isla Vieques. After breakfast at the hotel, we may travel to El Yunque, The Caribbean National Forest, where we can enjoy the first of Puerto Rico's endemic birds! A flexible day, depending upon weather we might hike trails amid the national forest, find ourselves birding forest edges close to the refuge offered by our vehicles or visiting adjacent lowlands nea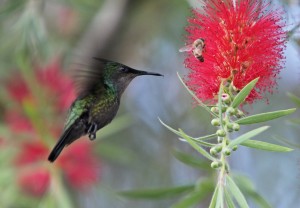 rer the coast. Two hummingbirds of the eastern end of the island—Green-throated Carib and Antillean Crested Hummingbird—are attractive birds and we'll look for them to make their first appearances. 
After checking out of our hotel, we'll take a short flight to Vieques. Truly an enchanted island, Vieques offers much to its visitors. Our hotel overlooks the water and we'll enjoy some birding and sightseeing after checking in. The evening hours are reserved for one of the world's most interesting natural wonders—an excursion to the world's brightest bioluminescent bay. 
From a national news story: 
"The first thing you notice is the wake—a luminous, emerald path of foam lingering below the stern. There are other boats here on Mosquito Bay at night, but you can barely see them—only their wakes, glowing like the lights of distant cities. Suddenly, there's a flash of the bow. A startled porgy bursts through the water, leaving a comet-like trail. Then another. And another. Soon the water explodes with porgies, mullets and halfbeaks in an underwater fireworks display. Its biological classification is no longer a mystery, but just why Pyrodinium flashes is a puzzle that scientists have not yet been able to definitively solve. "The function is not well understood," says Paul Dunlap, a specialist in bioluminescence at the Woods Hole Oceanographic Institute in Massachusetts. "In other bioluminescent organisms- certain fish, for example we know they use it to attract prey or mates. Or to scare off predators." Dunlap and most other scientists suggest that the later explains why dinoflagellates are bioluminescent. Some think that the organism flash as a "direct" warning to predators. Then there is also the "indirect" theory that they are signaling their predator's predator. "Mosquito Bay is surrounded by mangroves and as you can see, their roots reach down into the water, " she says, panning the floodlight's beam across the tangled rows of vegetation. As the roots and fallen leaves of the mangroves decompose, scavenging bacteria produce vitamin B12, an essential nutrient for the dinoflagellates. Because of the opening to the sea is narrow, Grasso explains, B12 and other nutrients stay in the bay rather than being flushed out to sea. The shallowness of the bay means that the evaporation rate is high. With evaporation, the surface water becomes saltier and sinks to the bottom. This heavier water moves out to sea, leaving populations of Pyrodinium thriving at the surface. "These conditions are rare," Grasso says. "People say there maybe six or seven places like it in the world."
There used to be more. New Providence Island in the Bahamas had a bioluminescent bay, until its opening to the sea was widened and the dinoflagellates population declined. A bioluminescent bay in Hawaii suffered a similar fate. Others in the Caribbean have been lost due to industrial or boat pollution, the cutting of mangroves for charcoal, the overgrazing by cattle of nearby fields, which produces water-clouding runoff and the increase in artificial lights, which reduces the phenomenon's brightness, according to Barabara Bernache Baker, a retired biologist who has worked hard to preserve the Mosquito Bay. "La Parguera used to be the most spectacular bay," says Eduardo Cintron, a marine biologist with Puerto Rican department of natural resources. Now it's "one-tenth as bright as Mosquito Bay.""
Night Vieques.
Day 3: – Isla Vieques to La Parguera. After breakfast we'll travel along the southern coastline of Vieques, exploring portions of the Vieques National Wildlife Refuge. The beauty of this former military firing range is spectacular and Punta Ferro houses the weathered shell of its historic lighthouse. Depending upon how our morning goes, we'll be able to enjoy lunch near the beach before our return to Puerto Rico.
After our short flight, we'll spend the rest of our afternoon driving along Puerto Rico's southern coastline enroute to Parguera. We'll arrive at our hotel during the late afternoon hours and, after checking in, will enjoy a walk around the grounds. The endangered endemic Yellow-shouldered Blackbird often occurs on the grounds of our parador! After an early dinner, an evening outing to look for the endangered and rarely seen Puerto Rican Nightjar is possible. Night La Parguera.
Day 4: – Cabo Rojo, Laguna Cartagena and Guanica State Forest. After breakfast we're off for birding coastal areas around Cabo Rojo and Laguna Cartagena where we can hope for several rarely seen ducks including Masked Duck and West Indian Whistling-Duck (both rather rare) and also places where we can hope for various introduced species and other wetland birds. We'll seek the endemic and scarce Yellow-shouldered Blackbird, scores of migrant shorebirds and brushy grassland species. Just about 10 miles east of our hotel lies one of the last remnants of
Puerto Rico's dry forest, Guanica State Forest. Many of Puerto Rico's endemics are to be found in the Guanica Dry Forest, including Puerto
Rican Tody and the stunning and vocal Adelaide's Warbler. After lunch, we'll visit the dry forest where we'll look for the very fetching little Puerto Rican Tody and other denizens of the area, including Caribbean Elaenia and Pearly-eyed Thrasher. Early dinner and, after dark, we'll listen for Puerto Rican Screech-Owl and Puerto Rican Nightjar if necessary. Night La Parguera.
 Day 5:- Guanica State Forest to the Maricao highlands. We'll enjoy breakfast in the field today as we're off to the highlands in the predawn darkness. We'll head for the cooler hills to the north near the village of Maricao, where we'll hope to see the little-studied Elfin-Woods Warbler, which is found at few accessible sites in Puerto Rico. The lush montane forest of Maricao State Forest and other protected areas near our hotel base will keep us entertained for hours as we search for Puerto Rican Lizard-Cuckoo, Puerto Rican Emerald, Puerto Rican Vireo, Puerto Rican Flycatcher, Puerto Rican Tanager and Greater Antillean Oriole. The star attraction in the mountain region, however, is Elfin Woods Warbler, which was only discovered in 1971. After a full day of birding these beautiful highlands, we'll return to Puerto Rico's southwest coast for an enjoyable evening. Night La Parguera.
 Day 6:- Maricao Forest Reserve. We'll rise early and enjoy a nice cup of coffee, locally farmed in the cool wet slopes around Maricao, before setting off on the trails in search of Puerto Rican Tanager, Green Mango, Puerto Rican Emerald, Antillean Euphonia, Loggerhead Kingbird, Puerto Rican Pewee and maybe a migrant warbler or two. A full day will give us the time we need to enjoy our surroundings and their inhabitants again—and perhaps to take a break in the afternoon—or we may wish to go on down the mountain to visit Susua State Forest, which has a population of nesting Key West Quail-Doves, more conspicuous now than in midwinter. A night excursion to a nearby forest patch is possible if we've still not seen Puerto Rican Nightjar. Night La Parguera.
 Day 7: – La Parguera, Guanica or Maricao Forest clean-up. Our last morning devoted to the coastal areas of SW Puerto Rico will be spent searching for any species that may have eluded us thus far. It's likely we'll visit the spectacular Guanica State Forest before turning northward in the the central highlands. Another visit to the Maricao Forest Reserve is possible. Night La Parguera.
Day 8 – Casa Grande to Rio Abajo, Toro Negro and Cambalache State Forests.Our last full day will be spent exploring various forest reserves and parks. Rio Abajo and Toro Negro State Forests hold numerous trails that provide excellent birding. Toro Negro is also home to Puerto Rico's highest point. Visits to the Cambalache State Forest and Arecibo Observatory are also likely. As we approach Puerto Rico's north coast, we hope to visit several ocean overlooks for seabirds (terns, Magnificent Frigatebird, Brown Booby & White-tailed Tropicbird) and a few favorite small wetlands. Night near San Juan.
Day 9- After breakfast, we'll make the leisurely trip to San Juan where we'll have a bit of time to explore the attractions of "Old Town". Our arrival at the International Airport and your return flights home is planned for 12:30 PM. Remember, be sure to plan your return flights with a departure anytime after 2:00 PM!