Trinidad & Tobago: A Tropical Birding Vacation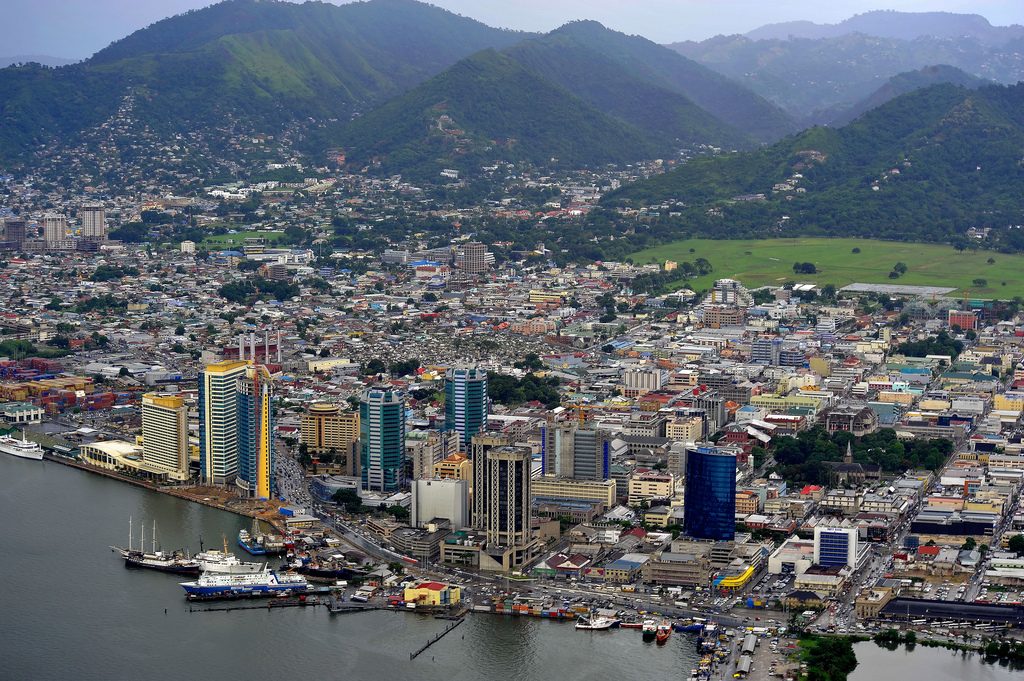 February 18 – 28, 2017
March 31-Apr 10, 2018
There is no better introduction to birding the New World tropics than a trip to the two-island nation of Trinidad & Tobago. Many exotic neotropical bird families can be found—toucans, motmots, jacamars, ovenbirds, woodcreepers, antbirds, manakins and cotingas along with many colorful hummingbirds & tanagers. You'll witness events that have made neotropical climates famous among birdwatchers and nature lovers of all interest levels: energetic dancing manakins (three species are likely); preposterously loud bellbirds (shaggy-wattle-shaking Bearded Bellbirds display amid the forest below the lodge at Asa Wright); trekking up and down forested hillsides to view weird, cave-dwelling, fruit-eating, kin-to-nightjars Oilbirds roosting on the walls of their dark, stone grotto; evening roost flights of Scarlet Ibis that turn emerald green mangroves into tropical Christmas trees festooned with blazing red ornaments; hummingbirds, those diminutive avian jewels of the new world, of all shapes and sizes, highlighted by diminutive, but dazzling, Tufted Coquettes, a living, blazing ember known as Ruby Topaz and the dapper, back-from-extinction White-tailed Sabrewing; and you might gaze upon the season's first immense Leatherback Sea Turtles visiting their nesting grounds right outside your beachside room! These are but a few adventures that await you on our Trinidad and Tobago: Tropical Birding Vacation.
These beautiful islands contain a diversity of easily accessible birdwatching habitats that allow unparalleled access to some of the worlds most stunningly beautiful birds. Trinidad, lays only seven miles off the northern coast of Venezuela and shares an abundance of bird species found in northeastern South America. Tobago's avifauna is more Caribbean in it's makeup, offering a laid-back counterpoint to its sister island.
We'll visit Yerette, a hidden garden nestled high in the hills overlooking the Maracas-St. Joseph Valley, private home of Theo and Gloria Ferguson (and sometimes up to 1,000 hummingbirds!). This is birdwatching at its most relaxing. Thirteen of the sixteen species of hummingbirds recorded in Trinidad & Tobago have been seen at Yerette; everyday eleven are found, often twelve. We plan our visit to make sure you see as many hummingbird species as possible, and we know that photographers in the group will be most pleased with the overwhelming number of photographic opportunities. Theo is a bird photographer par excellence and we'll enjoy an introduction to the colorful hummingbirds of Trinidad illustrated by his handiwork. 
No trip to Trinidad would be complete without an evening boat tour of Caroni Swamp, we'll have ours at the end of our very first full day! After an enjoyable journey by slow moving boat, our day ends with the spectacular sight of Scarlet Ibis returning to their mangrove roosts at dusk. Truly one of the world's most dramatic natural moments.
We'll travel to the eastern tip of Trinidad to Grand Riviere and our beach front lodge of Mount Plaisir. The beach here is not for sunbathing. There are no shade palapas, no loungers or waiter service. It's a wild beach and the featured attraction here are the numbers of Leatherback Sea Turtles who come to these beaches to lay their eggs between March and August each year.
For us, our primary reason for visiting is the Trinidad Piping-Guan. Critically endangered and Trinidad & Tobago's only endemic bird, Grand Riviere is their final stronghold on the island. Known locally as the "Pawi" they can be found feeding in Wild Nutmeg trees in hillside forests behind the village.
Accommodations for our one night stay is at a delightful beachside hotel, known for serving delicious cuisine. The owner has a farm that gives us access to some excellent birding, and in the late-afternoon (and again the following morning) we are poised to find rare Trinidad Piping-Guans as they return to roosts in the area. 
In Tobago, this year's tour stays at two locations—the remote and intimate Cuffie River Nature Retreat, located in Tobago's highland rainforest and the newly-renovated beach front Blue Waters Inn on the island's northeastern coast.
Cuffie River Nature Retreat is located in a isolated tropical rainforest at the edge of Tobago's main ridge—the oldest protected tropical rainforest in the western hemisphere. Along Cuffie's trails we may find White-tailed Sabrewing, Blue-backed Manakin, Yellow-legged Thrush and other Tobago specialties such as Rufous-vented Chachalaca, Ruby Topaz Hummingbird, Collared Trogon, Red-crowned Woodpecker and White-fringed Antwren. Here you may also choose to enjoy the elevated pool surrounded by  sights and sounds of the rainforest.
We'll also explore the eastern mountains of Tobago, seeing some of the scenic coastline of the island before driving up to the premier Unesco World Heritage Site of Tobago, a geographic backbone of rugged terrain reaching almost 2000 ft. in elevation and covered by forests and extending parallel to the coast in the Northeast portion of the island. Established in 1776, Tobago's Main Ridge Forest Reserve is one of the oldest legally-protected forest reserves in our hemisphere. Early on its managers had the foresight to understand the connection of a healthy forest and a productive watershed for the island's agricultural areas below.
A trail through this UNESCO World Heritage Site is an excellent place to White-tailed Sabrewing, a stunning hummingbird thought to be lost, but rediscovered here after Hurricane Flora altered much of the island's forest habitats in 1963. On a winding trail that descends into the forest, we look not only for sabrewings, but also Blue-backed Manakin, Olivaceous Woodcreeper, Yellow-legged Thrush, both Fuscous and Venezuelan Flycatchers, the elusive White-throated Spadebill and Plain Antvireo. Common Black Hawk, the main avian predator here, can often be seen soaring above.
Blue Waters Inn is a lovely beach front hotel on golden sand, looking out on the deep blue waters of the Atlantic with good snorkeling right off the beach. This lush 46 acre hideaway also has trails to explore. On our wanderings we might see birds such as Blue-crowned Motmot, Red-crowned Woodpecker, Rufous-vented Chachalaca, Rufous-tailed Jacamar and White-fringed Antwren. We'll also enjoy a glass-bottom boat trip over spectacular coral reefs en route to nearby Little Tobago Island and its nesting colonies of Red-billed Tropicbirds, Brown Boobies and Sooty and Noddy Terns.
Upon our return to Trinidad, we'll be based at the world-famous Asa Wright Nature Centre. A charming lodge, Asa Wright is located on a 2,000 acre tract of rainforest high in the Arima Valley of the island's Northern Range. The centre's hospitality, food and bird's are world famous. You'll soon discover why as it's not unusual to see more than 40 species of colorful birds before breakfast! All from the comfort of Asa Wright's verandah with a cup of coffee or tea. For first time visitors to the neotropics, many of these beauties prove to be life birds. You'll experience first hand the lush island rain forests on the property. It provides a civilized setting enabling you to thoroughly enjoy the beauty of this unique habitat. Natural second-growth has taken over former agricultural terrain and festooned the abandoned plantation's vegetation with vines and a host of epiphytes. The whole effect is one of being deep in a tropical rainforest. From the former estate house's striking verandah you'll enjoy a colorful array of tanagers, hummingbirds and honeycreepers at close range as they visit the bird-feeders and flowers around the verandah. Mammals are present also and you may see an occasional agouti or bats taking their turn at the various feeders as well. In the late afternoon, as you relax with a tasty rum punch, you can watch the sun cross over the sweeping Arima Valley. The low angled light highlights many colorful orchids and bromeliads as exotic sounds of rain forest birds surround you with their haunting calls.
Several trails traverse this rich and diverse wildlife sanctuary and we'll sample most of them! With ample time for relaxation, you can adjust to the tropical sun and heat at your own pace. For those who wish, there is always the opportunity for a cooling dip in the natural pool. One morning we'll visit Dunston Cave, a beautiful riparian cave located on the sanctuary, to view a breeding colony of the odd Oilbird. This strange, nocturnal bird lives and breeds in dark caves during the day, forages at night for fruit, which it plucks from palm trees while in flight.